My wife thinks my computer experience: Life at the Dawn of the PC Age will make a more marketable book, and I know many of you are fellow nerds.
I first learned about computer programming in 8th grade. There was a math teacher at our high school with a Ph.D. Why Dr. Jackson taught at a high school, I have no idea. He had worked out an arrangement to teach some math classes about programing in Fortran. Fortran was one of the first high level programming languages. The name stood for FORmula TRANslation. It was really only well suited to mathematical work. The details are fuzzy now, but I am not sure if it had subroutines. It did have an absurd variable naming convention. Variables starting with the letters I through N defaulted to INTEGER. Other variable names were defaulted to REAL (floating point numbers). You can see the manual for FORTRAN IV variant for the IBM 1401 mainframe
here
.
Dr. Jackson mostly had use filling in coding forms used for keypunching into Hollerith cards. I have no memory of really understanding what these statements were supposed to do, but learning is often at first "Monkey see, monkey do." We then went to the high school, and used an IBM 029 keypunch to punch in the statements.
Hollerith cards were 80 columns wide.
There were several rows going across. 0-9, a 12s row, and I think another one where the keypunch knocked little square holes into card stock. A program consisted of a few cards or many boxes (2000 cards per box).
The IBM 1620 mainframe that the high school had read these cards in a card reader, a descendant of the sorting devices
Hermann Hollerith created to do the 1890 census tabulation
before they started the 1900 census.
I have no idea what that program was supposed to do, but it was written in FORTRAN II.
By the time I again became aware of computers, I was in 10th grade. My friend Louis Watanabe was trying to distract me from a completely unhealthy infatuation with a very smart girl named Holly Thomas who was in my 9th grade German class. My grades improved from B- to B+ within a few weeks of my unhealthy interest in Holly, then consistently As in high school. Anyway, Louis had been one of Dr. Jackson's students who actually took to computers and later became rich at Microsoft.
The high school had upgraded to an IBM 1401 mainframe.
It was a monster with 4K of core memory in that CPU, and another 12K in an external washing machine sized unit. Core memory actually stored binary data in little magnetized iron cores.
Yes those wires set and read the bits. Core memory was non-volatile.
Hard disks? Of course.
Yes that is a removable drive. Each could hold 3MB.
My first uses of the 1401 computer was to write FORTRAN IV programs to calculate magnification and field of view of various eyepieces for my 8" reflector (which I still have, 45 years later). Eventually, I learned to program in the 1401's machine language. What is that?
First a little unbelievable technical discussion. Core memory was organized utterly differently than today. Each byte of memory was 8 bits like today. Memory addressing was decimal. After adress 100, address 101. It was actually organized that way; not an artifact of hiding hexadecimal from us. The encoding scheme was EBCDIC: Extended Binary Code and Interchange Code: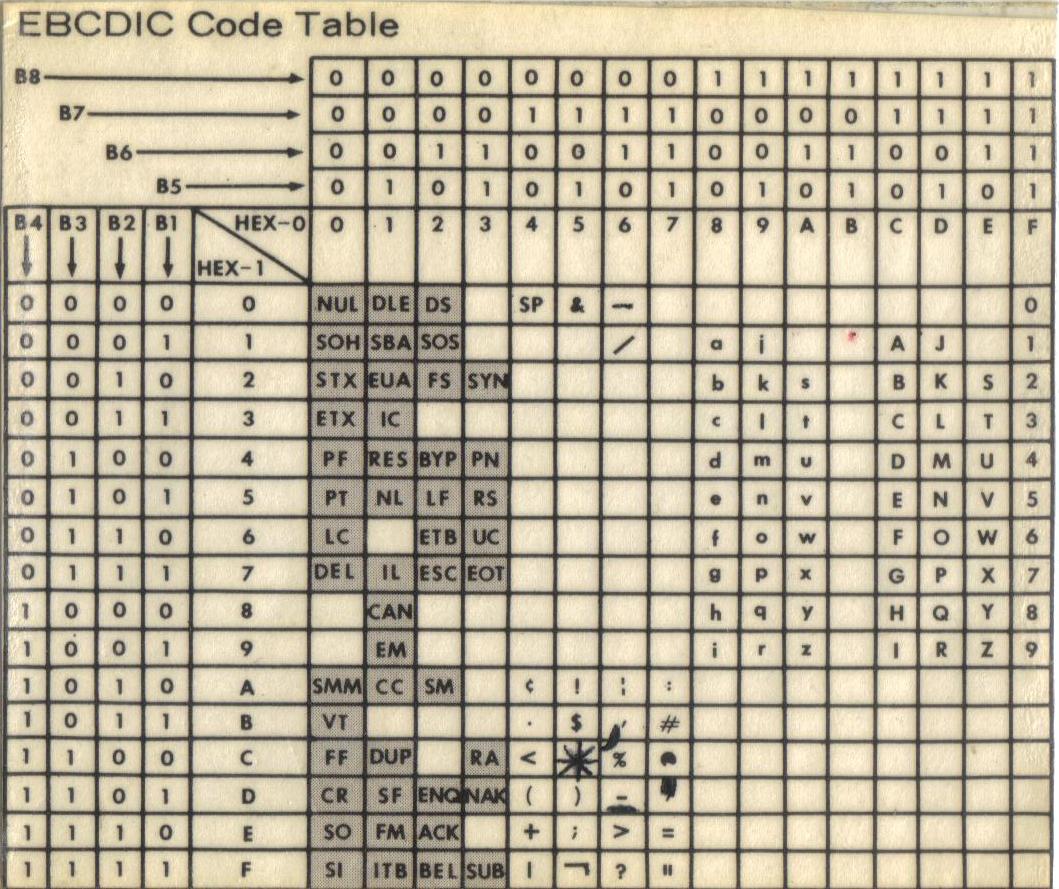 ASCII? What;s that?
There was no concept of words. If you wanted to do a 100 digit by 100 digit multiply, you set what was called a word mark at the end of the fields. An add instruction would be literally the letter A followed by the address of the two fields. M for multiply, S for subtract, D for divide.
To read a card from the card reader into 000-080 the instruction was 1, to punch a card from 100-180, 2, to print from locations 201-323, 4. Oh yes, the printer: an IBM 1403 line printer: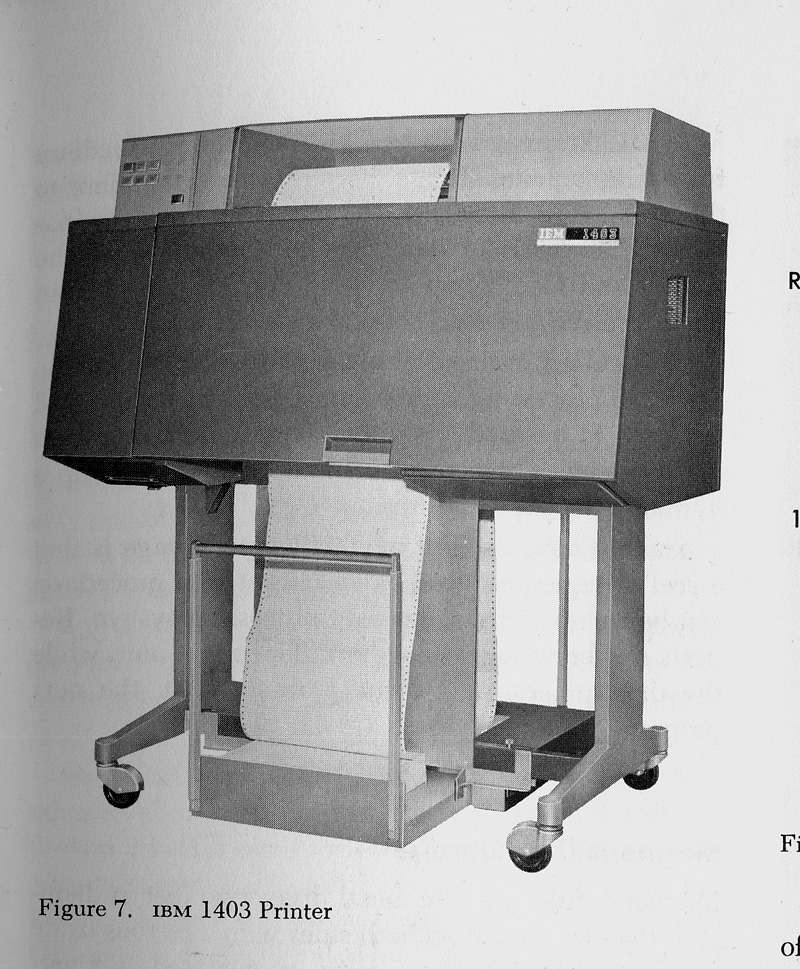 It used fanfold paper transported through the printer by those holes in the side: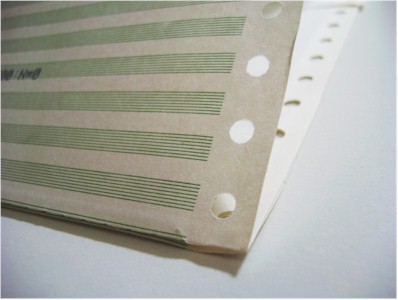 and usually "green bar" paper. These were very wide sheets. They could print at what seemed insane speeds until I saw my first laser printer. All upper case.
These were impact printers in every worst sense of the word. They were loud enough that you closed the cover when printing; they would probably be an OSHA violation today. There was a program that you could run that rang the hammers against the type to play "Jingle Bells."